Brave Midlife: Defeat Change, Grief and Loss
Harnessing the Winds of Change: Your Guiding Compass Through Life's Biggest Challenges
Let's imagine: You're in the middle of the ocean in a sailboat. The skies are crystal blue, and the sea is calm. Then, without warning, a storm hits. The tranquil waters become tumultuous waves, and the clear skies turn dark and stormy. This is the nature of life—uncertain, unpredictable, and filled with change. And like that unexpected storm, midlife can often bring about profound changes, causing grief and loss. But what if I told you, within that storm, within the very heart of change, lies the power to transform your life?
What you will learn in this Episode:
In this enlightening journey, we'll dive deep into the essence of midlife changes, grief, and loss. Expect to uncover key insights about embracing these unpredictable life shifts, the importance of flexibility, and the multifaceted nature of grief. We'll also explore the critical role of a support system and how it serves as a pillar of strength in challenging times. Finally, we will discover how adversity can actually foster personal growth and resilience, ultimately leading to a stronger, more vibrant you. This article is not just a guide—it's a beacon of hope and an affirmation that you can, indeed, bounce back from major life changes and emerge even stronger. So, are you ready to navigate these stormy seas and discover the hidden treasures within?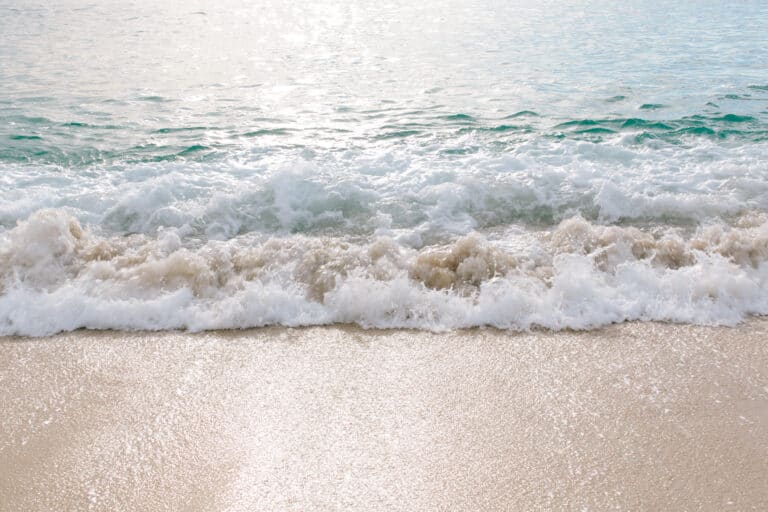 The Uncharted Waters of Major Life Changes
Navigating through life, we often encounter waves of significant shifts that threaten to throw us off balance. These major life changes can take many forms – a career transition, a change in personal relationships, or perhaps the unexpected journey of dealing with a health crisis.
These transitions, while intimidating, often come laden with hidden opportunities for self-discovery and personal growth. The secret to unlocking these opportunities lies in our ability to perceive these changes not as insurmountable obstacles but as catalysts propelling us toward our true potential.
When we're caught in the tumultuous storm of midlife changes, it's natural to feel adrift, uncertain of our path forward. But remember, just like the sailor adjusting their sails to meet the changing winds, it's our response to these changes that truly shapes our journey and the destination we reach.
By learning to steer our ship with the tides of change rather than against them, we open ourselves up to new experiences, insights, and personal growth. This begins with one pivotal step – embracing change.
Embracing Change: The First Step to Discovery
Fear of the unknown can often inhibit us from fully embracing change. Yet, it's through stepping outside our comfort zone and confronting this fear head-on that we discover new horizons of growth and potential. Embracing change requires courage, resilience, and an open mind – key navigational tools that guide us through the uncharted waters of major life changes and into the realm of boundless personal discovery.
In the face of life's shifts, acceptance can be our strongest ally. Embracing change is not about passive resignation or ignoring the discomfort it can bring; it's an active engagement with reality, a willingness to explore uncharted territories of our personal landscape.
By embracing change, we open our hearts and minds to the potential for growth concealed in every challenge. Change forces us to challenge our beliefs and perspectives, our habits and routines. It compels us to question our long-standing assumptions and to think outside the box, laying the groundwork for innovation, creativity, and self-discovery.
In our voyage through life's uncharted waters, acceptance of change is our compass, guiding us toward opportunities for personal discovery. However, in this unpredictable sea of life, having a compass alone isn't enough. Just like how the most experienced sailor is skilled in adapting to the changing winds and currents, our ability to navigate life's challenges rests significantly on our flexibility.
Cultivating Flexibility: The Key to Steady Sailing
In a constantly changing environment, rigidity is the anchor that weighs us down. Flexibility, on the other hand, allows us to adjust our sails to the shifting winds of life. It is the capacity to remain fluid, adaptable, and receptive in the face of unforeseen circumstances.
Cultivating flexibility involves adjusting our attitudes, perceptions, and behaviors to align with the changing tides. It requires an understanding that change is an inherent part of life and our ability to adapt determines our resilience. By fostering flexibility, we enhance our ability to bounce back from life's storms and steer our ship steadily towards our desired destination.
Flexibility is like the ship's rudder; it gives us control over our direction despite the swirling currents and winds. It gives us the power to navigate through life's challenges, make necessary adjustments, and find our way even in the darkest of storms. And indeed, the storm does come. Amid life's major changes, we often encounter waves of grief and loss that seem too daunting to surmount. But just as every cloud has a silver lining, so does every storm provide us an opportunity to demonstrate our resilience.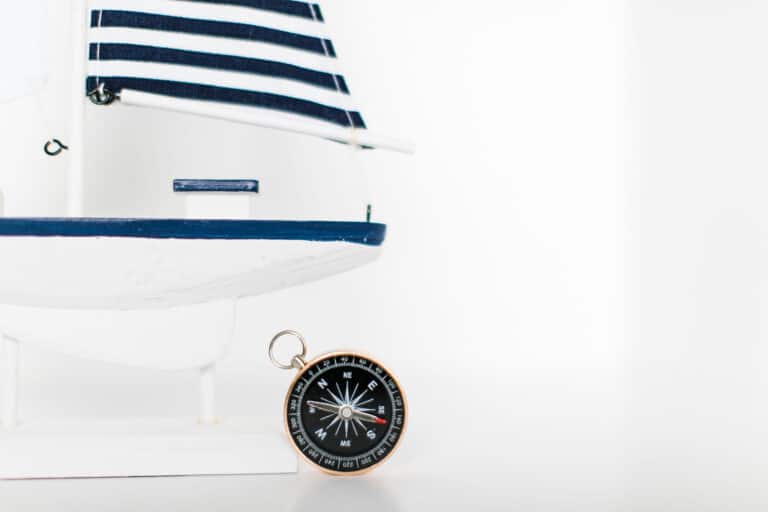 Weathering the Storm: Coping with Grief and Loss
Grief and loss are powerful storms in the sea of life changes. The feelings that come in their wake can often feel like a tempest, tossing us about with seemingly no direction. Whether it's the loss of a loved one, the end of a relationship, a career change, or a health crisis, these circumstances bring about profound feelings of grief that can feel overwhelming.
But as with any storm, it's crucial to remember that it won't last forever. It may take time, and it may challenge us in ways we never expected, but it is possible to navigate these waters. How we weather these storms can profoundly influence our journey through midlife and beyond. It is in these challenging times that our strength, resilience, and capacity for growth truly shine.
However, to truly cope with grief and loss, we first need to understand the nature of our journey. It's important to recognize that grief isn't a linear progression but a complex journey with its own ebb and flow, its peaks and valleys.
Understanding Grief: A Non-linear Journey
Grief is an intricate, deeply personal process. Contrary to the widely accepted notion, it doesn't follow a predictable, linear path. It doesn't begin at point A and neatly wrap up at point B. It's more akin to a rollercoaster ride with its unpredictable ups and downs. One moment you might feel like you're making progress, and the next, you might feel like you've been thrown back into the depths of your sorrow. And that's perfectly okay. It's crucial to accept and acknowledge these fluctuations, as they are integral to the grieving process.
The concept of grief is often misunderstood. Many perceive it as a linear journey, progressing neatly from denial to acceptance. But the reality is that grief is more like a winding path, full of unexpected twists and turns. Some days are harder than others, and there might be moments when it feels like you've taken two steps forward only to fall three steps back. This is a normal part of the process.
The critical thing to remember is that everyone's grief journey is unique. The way you experience and process grief might look entirely different from someone else's experience. There's no "right" or "wrong" way to grieve. There are just different paths through the forest, each with its own set of challenges and victories.
What matters most is giving yourself the grace to feel, to hurt, and to heal in your own time and your own way. It's about understanding that this non-linear journey is not a sign of weakness or failure but a testament to your strength and resilience in the face of loss.
However, while it's essential to acknowledge the non-linearity of grief, it's equally crucial to realize that you don't have to navigate this journey alone. One of the most effective strategies to cope with grief and loss is to lean on your support system.
Leaning on Support: Building Your Pillar of Strength
In times of grief, reaching out to others can seem like the hardest thing to do. You might feel like you're burdening others with your pain or that no one can truly understand what you're going through. But it's important to remember that you're not alone. Friends, family, support groups, therapists—these are your pillars of strength. They are there to help you navigate the stormy seas of grief and loss.
When we speak of strength, we often think of it as a solitary trait, something that comes from within. While that's true to an extent, the power we gain from the people around us, the ones who support us, is equally, if not more significant. Building your pillar of strength involves finding and leaning on this external support structure.
Sometimes, it's as simple as having someone to talk to, someone who listens without judgment, acknowledging your feelings and fears. Other times, it might involve more structured support, like joining grief counseling or therapy sessions. Professional therapists can provide you with effective coping mechanisms and strategies to process your grief healthily and constructively.
In some cases, support can also come from individuals or groups who have experienced similar life changes. They've been in the same boat, weathered the same storms, and they understand your grief on a level that others might not. This shared understanding can form the basis of strong, supportive relationships that are instrumental in navigating your journey.
Remember, it's not just about getting support but giving it too. Supporting others in their journey can be a powerful tool for your own healing. It can provide a sense of purpose and validation, confirming that despite the adversities, you can rise above and help others do the same.
That's where we discover the silver lining in these life-altering experiences – the opportunity for personal growth amidst adversity.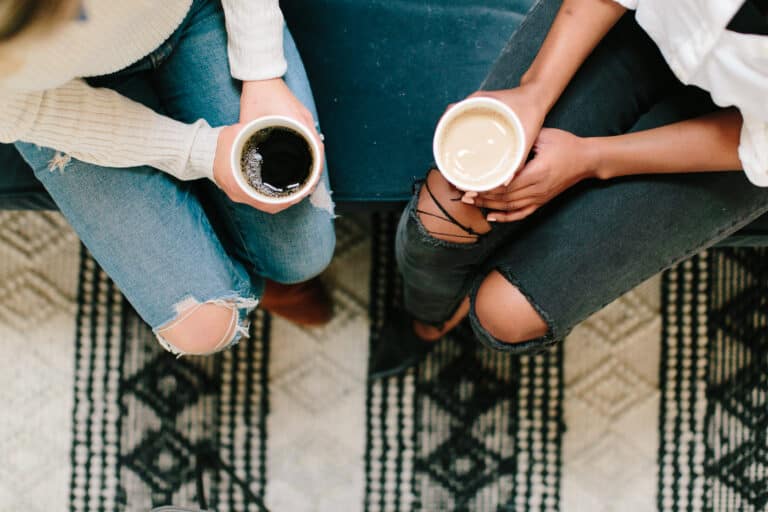 The Silver Lining: Personal Growth Amidst Adversity
In the midst of life's trials and tribulations, it's easy to lose sight of the possibility of growth. However, adversity often acts as a catalyst, sparking a transformation that may not have occurred otherwise. The experience of navigating significant life changes, grief, and loss can lead to profound personal growth and self-discovery.
It's in this crucible of personal upheaval that many find their purpose and meaning in life. Faced with trials that strip away the superficial, we're compelled to delve deeper into our core. What do we truly value? What kind of person do we want to be? Answering these questions can trigger a process of self-realization that outlasts the pain of the initial event.
Moreover, dealing with adversity also refines our emotional intelligence. As we grapple with intense emotions and learn to manage them, we grow more empathetic and understanding. We develop a renewed appreciation for the fragility of life and the strength of the human spirit, which can enrich our relationships and interactions with others.
And yet, growth doesn't end with understanding. It's also about converting our knowledge and newfound wisdom into actionable strategies. It's about taking the pain we've experienced and turning it into a powerful force for resilience and positive change.
Converting Pain into Power: The Art of Resilience
Resilience is not about avoiding pain or pretending it doesn't exist. It's about facing it head-on, learning from it, and using it as a stepping stone to become stronger and more resilient. This is the art of resilience—converting pain into power.
Resilience takes root when we harness our trials as opportunities for growth. Through the lens of resilience, every stumbling block is seen as a chance to rise again, stronger and wiser. The hardships that we face can become fuel for our journey, propelling us towards a more robust version of ourselves. With each challenge, we learn valuable lessons about our inner strength, about our capacity to adapt, to endure, and ultimately, to thrive.
Practicing resilience also involves changing our perspective. It's about learning to view life not as a succession of good or bad events but as a series of experiences that shape us. It's about embracing the full spectrum of life, the ups, the downs, and everything in between.
However, resilience doesn't exist in a vacuum. It must be paired with an ongoing commitment to personal development to truly blossom.
Join our community
Connect with like-minded individuals.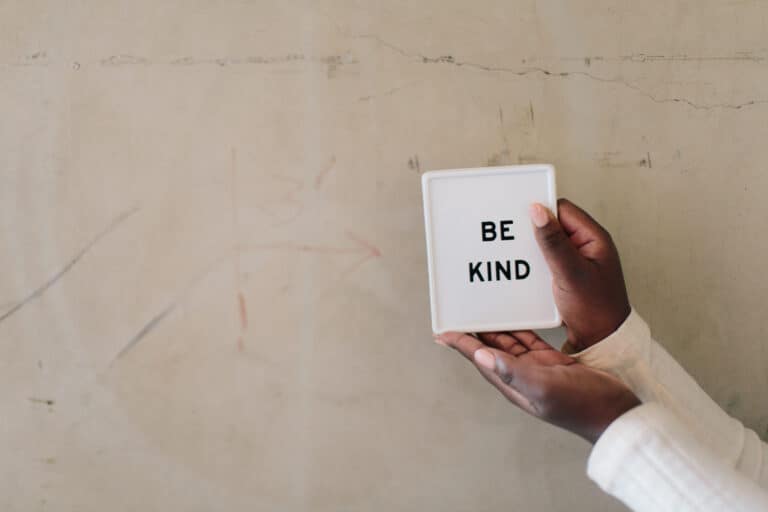 Nurturing the Self: Committing to Personal Development
Self-improvement isn't just about acquiring new skills or knowledge. It's also about continually refining our character, maturing emotionally, and expanding our understanding of ourselves and the world around us. This lifelong journey can become a source of joy and fulfillment, even as we grapple with the inherent uncertainties of life.
As we traverse the path of life, nurturing our personal growth is not just an option—it's a necessity. Following the experience of significant life changes, grief, and loss, personal development is the lighthouse that guides us toward calmer waters.
Personal development is about more than just acquiring new skills or improving existing ones. It's about creating a deeper understanding of ourselves, our values, and our goals. It's about fostering a growth mindset—a belief in our capacity to learn, adapt, and grow no matter what challenges we face.
This commitment to self-improvement may include various strategies, such as engaging in regular physical activity to bolster physical health, embracing mindfulness or meditation to enhance emotional and mental well-being, or pursuing lifelong learning to broaden our knowledge and understanding. The beauty of personal development is that it is not a one-size-fits-all process. Instead, it's a personalized journey that we can tailor to our unique needs, interests, and aspirations.
While it's vital to acknowledge that there is no quick fix for overcoming the challenges brought on by major life changes, grief, and loss, committing to personal development can set the stage for profound growth and transformation. By fostering resilience, leaning on support, and nurturing ourselves, we can not only survive these trials but thrive in their aftermath.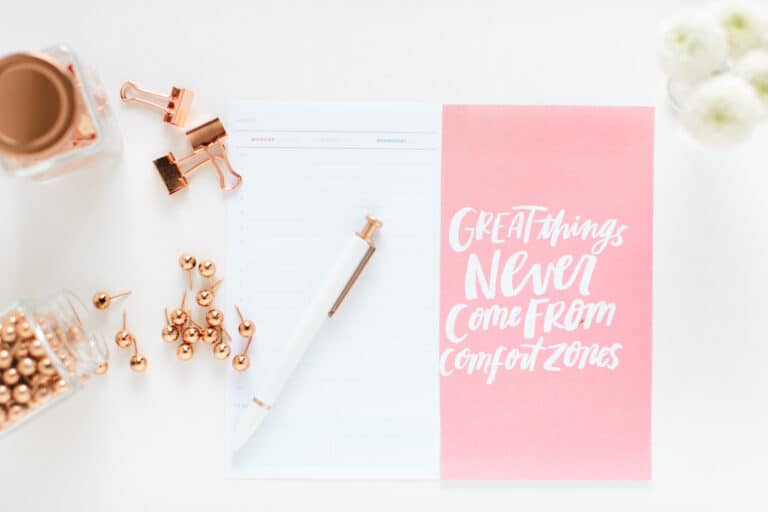 Wrap up:
In this exploration of the journey through midlife changes, grief, and loss, we've delved into several key themes and strategies. We've examined the nature of change and the importance of embracing it as an opportunity for discovery. We've looked at the role of flexibility as an essential tool in navigating life's unpredictable seas. We've also delved into the heart of grief, acknowledging it as a non-linear journey that can, with time and support, lead to healing.
We've touched on the importance of building a strong support system—our pillar of strength in stormy times. Lastly, we've considered how personal growth often flourishes amidst adversity, with resilience and personal development acting as powerful agents of change.
So, which steps will you begin incorporating into your life as you navigate your midlife changes? What new strategies will you deploy to enhance your resilience and commitment to personal development?
Remember, the journey through change, grief, and loss is not a solitary one. Feel free to share your experiences, insights, and questions in the comments below. Let's create a supportive community where we can all grow and learn together.
And if you've found this content valuable and want to dive even deeper, don't forget to subscribe. With new insights, strategies, and stories shared regularly, you'll find plenty of resources to support your journey through life's changes.
Together, we can transform the challenges of midlife into a springboard for growth, resilience, and personal discovery. So, here's to embracing change, weathering the storms, and nurturing our personal development today and always.
Watch the complete episode here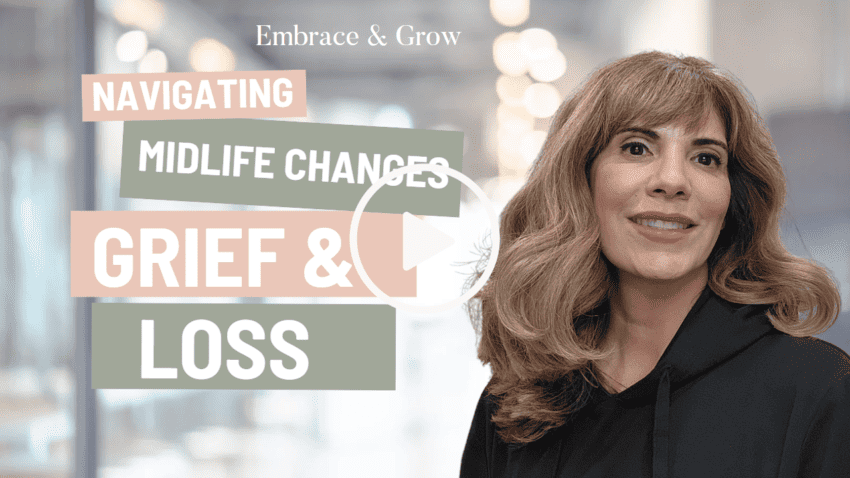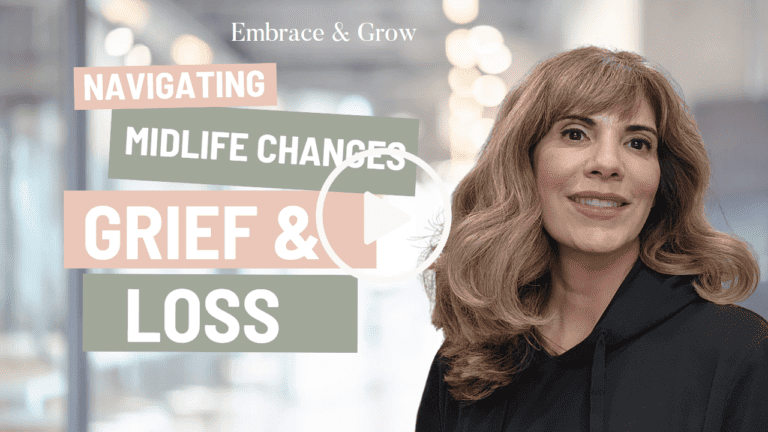 Resources Mentioned:
Subscribe to Apple Podcasts, and don't forget to Rate and Review
Like what you heard? If so, please rate and comment on Apple Podcasts. And while you are there, let me know what you want to hear next.
And while you are there, don't forget to hit Subscribe.
Want to know how you can enjoy this podcast more?