Finding Your Video Branding Mojo
From Camera Shyness to Camera Confidence: A Journey of Authentic Video Presentation
In the age of digital connection, the power of video branding has never been more crucial. But how do you transition from being camera-shy to confidently showcasing your brand's story? Enter the world of Simone Bueno, a seasoned filmmaker, cinematographer, and web developer who has mastered the art of authentic video presentation. If you've ever felt the jitters before hitting the 'record' button or wondered how to genuinely resonate with your audience, this deep dive into our enlightening conversation with Simone is a must-read.
Unlocking Authentic Video Branding: A Fusion of Tech and Storytelling
In our visually-driven digital era, standing out requires more than just being present on video. It's about mastering the nuanced dance of authentic video branding. This art form isn't just about the visuals; it's a harmonious blend of genuine storytelling, technical expertise, and personal charisma. But how does one navigate the intricate balance between tech-savviness and authentic storytelling? Enter Simone Bueno. With over 25 years as a web developer and a seasoned journey as an independent filmmaker and cinematographer, Simone brings a unique perspective to the table. Her rich background allows her to fuse the precision of technology with the art of storytelling, creating a video branding approach that's both genuine and impactful. As we delve deeper, you'll discover the essence of her approach and how it can revolutionize your own video branding journey.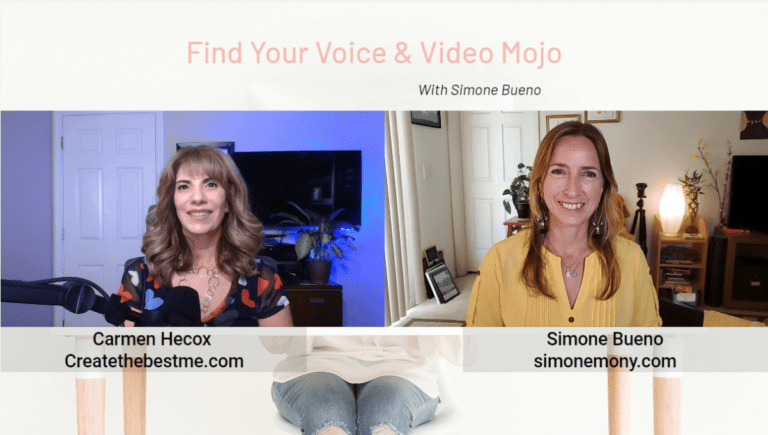 Who is Simone Bueno? A Tapestry of Talent and Tenacity
Simone Bueno is not just any expert in the realm of video branding; she's a mosaic of diverse experiences and skills. Hailing from the vibrant landscapes of Brazil, with stints in Argentina and the bustling streets of NYC, Simone's journey is as colorful as her heritage. With over a quarter-century in web development, she's witnessed the digital evolution firsthand, understanding the intricacies of the online world. But it's her foray into filmmaking since 2008 that adds a cinematic flair to her repertoire. As an independent filmmaker and cinematographer, Simone has delved deep into the world of pre and post-production, cinematography, and color grading. This blend of tech expertise and cinematic vision positions her uniquely, allowing her to guide others in crafting videos that don't just inform but captivate.
Yet, beyond her professional accolades, Simone's mission is deeply personal. She's transformed her own camera-related apprehensions into a beacon of empowerment for others, especially women entrepreneurs. And this brings us to a pivotal turn in her journey.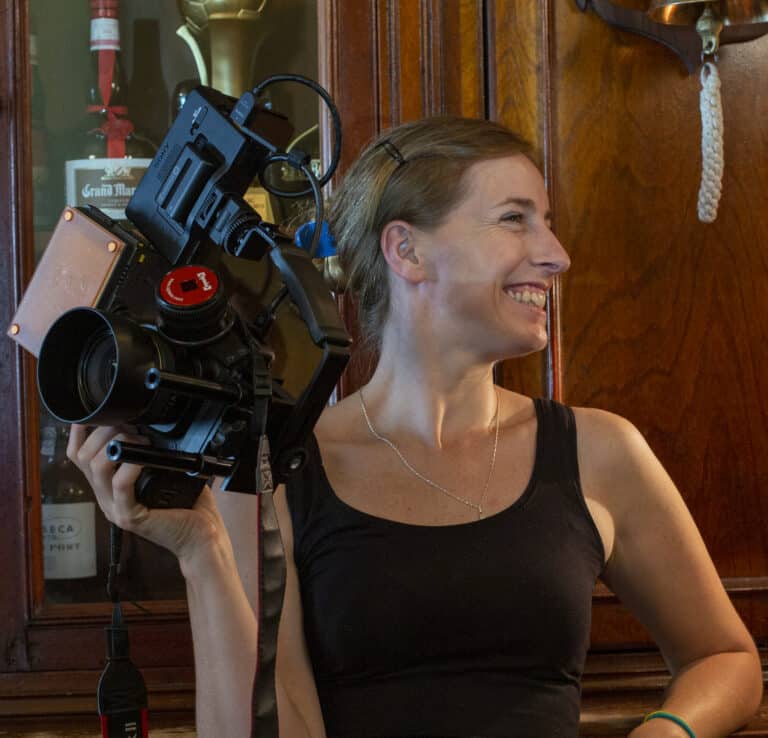 The Journey from Camera Shyness to Camera Confidence
In 2020, Simone took on a new challenge. Recognizing the hurdles many face, especially women business owners, in authentically presenting themselves on camera, she decided to bridge the gap. It wasn't just about teaching the technicalities of video creation but addressing the underlying fears and self-doubt many grapple with. Simone herself had faced these challenges, feeling the weight of the camera's gaze and the pressure to present a perfect image. But through perseverance, self-reflection, and a passion for her craft, she transformed her fears into strengths. Now, she's on a mission to help others do the same. Through personalized training sessions and workshops, Simone empowers individuals to find their unique voice, embrace their authentic selves, and shine confidently in front of the camera. It's a transformative journey, one that goes beyond the lens and delves deep into self-discovery.
But what's the secret sauce behind this transformation? How does one not only overcome camera shyness but also craft compelling narratives that resonate with audiences? This brings us to a cornerstone of Simone's philosophy.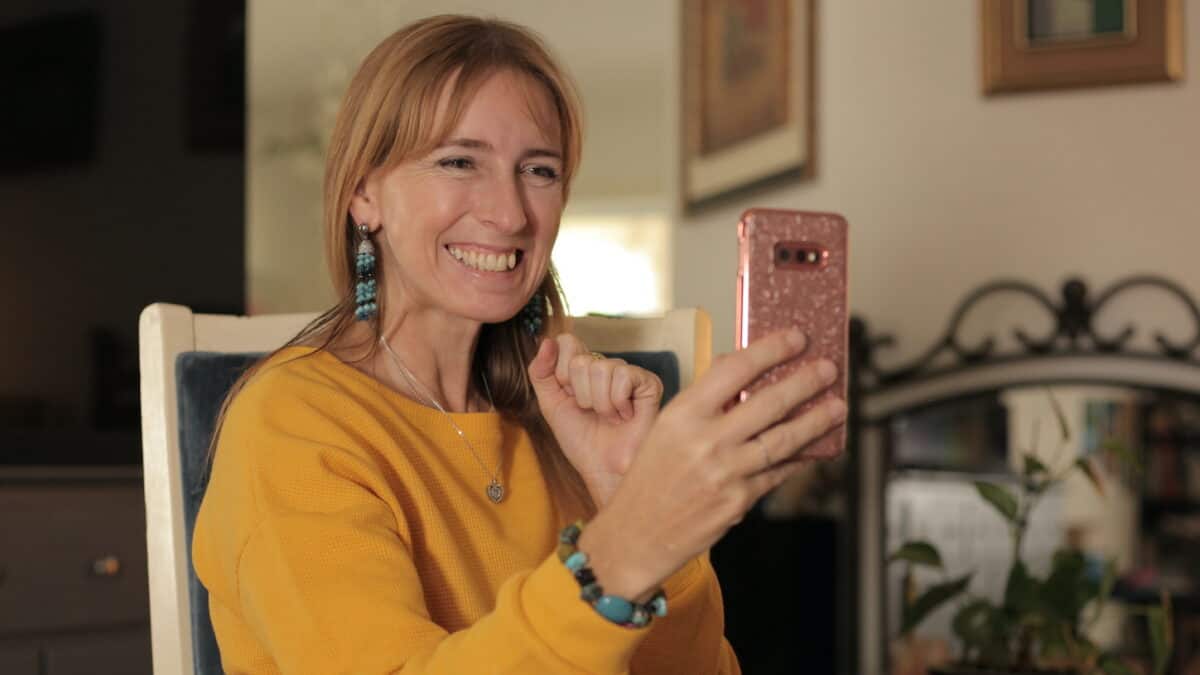 The Magic of Storytelling
Every brand and every individual has a story waiting to be told. It's these narratives, woven with personal experiences, challenges, and triumphs, that form the heart of authentic video branding. Simone firmly believes that authenticity is the key to creating a genuine connection with your audience. It's not about putting on a facade or mimicking what's trending. It's about delving deep, understanding your brand's ethos, and presenting it in a way that resonates. Simone's approach to video branding is rooted in this belief. She emphasizes the importance of sharing not just the successes but the struggles and the behind-the-scenes moments that make a brand relatable. "It's these genuine stories," she often says, "that create a lasting impact, making viewers feel seen, understood, and connected."
But while storytelling is the soul of video branding, the body that gives it form and function is technology. And this is where Simone's multifaceted expertise truly shines.
Join our community
Connect with like-minded individuals.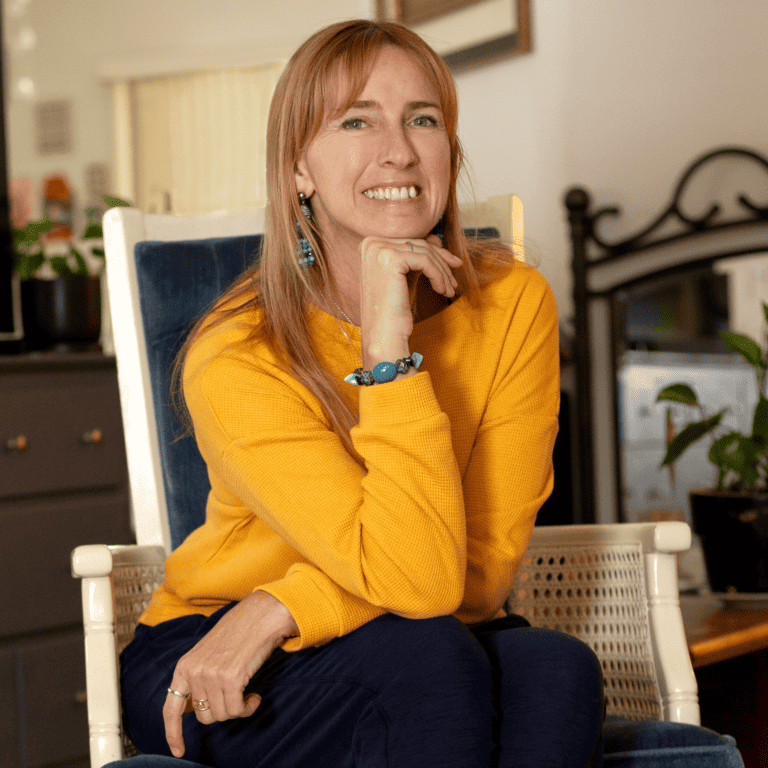 Harnessing Technology for Authentic Connection
In the realm of video branding, technology is a double-edged sword. On one hand, it offers tools and platforms to reach audiences globally, but on the other, it poses the challenge of keeping the human touch intact amidst the digital noise. Simone, with her extensive background in web development and filmmaking, understands this delicate balance like no other. She believes that while technology provides the canvas, it's the artist's touch that brings the masterpiece to life.
For Simone, it's not about having the most advanced camera or the latest editing software; it's about how you use these tools to amplify your authentic voice. She emphasizes the importance of leveraging technology to enhance storytelling, not overshadow it. Whether it's the subtle art of color grading to set the mood or the precise editing to keep the narrative flowing, Simone's approach is always tech-enabled but human-centered. She champions the idea that in the digital age, technology should be a conduit for genuine human connection, not a barrier.
And as our enlightening conversation with Simone Bueno came to a close, a few key takeaways resonated deeply.
Closing Thoughts
Our digital landscape is ever-evolving, with video branding at its forefront. The insights Simone shared are a testament to the power of authenticity, storytelling, and the right use of technology in this domain. From understanding the essence of genuine video presentation to the intricate dance of blending tech with storytelling, our conversation was a deep dive into the world of video branding.
Simone's journey, from her roots in web development to her transformative role in empowering women entrepreneurs through video, is a beacon of inspiration. Her emphasis on sharing not just the highs but the lows, the behind-the-scenes moments, and the personal challenges underscores the importance of authenticity in today's digital age.
But the learning doesn't stop here. For those eager to delve deeper and master the art of video branding, there's exciting news! Simone is hosting a workshop on October 25, 2023, at 1:00 PM EDT. It promises to be an enriching experience packed with insights, hands-on training, and a chance to learn from the best in the business. If you're keen on elevating your video branding game, don't miss out. Sign up for the event.
In essence, our conversation with Simone Bueno was more than just an interview; it was a masterclass in authentic video branding. As we continue to navigate the digital realm, her insights will undoubtedly serve as a guiding light for many.
If you want to be the first to know when a new episode is released, sign up to receive those notifications.
Watch the complete interview here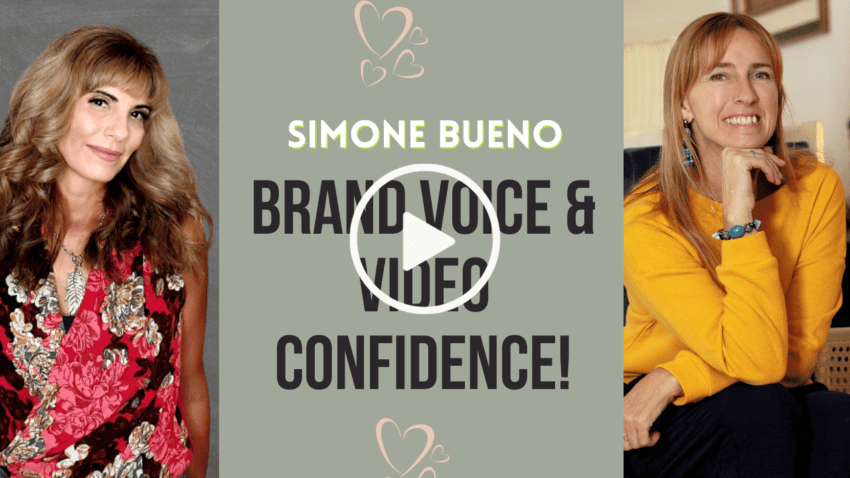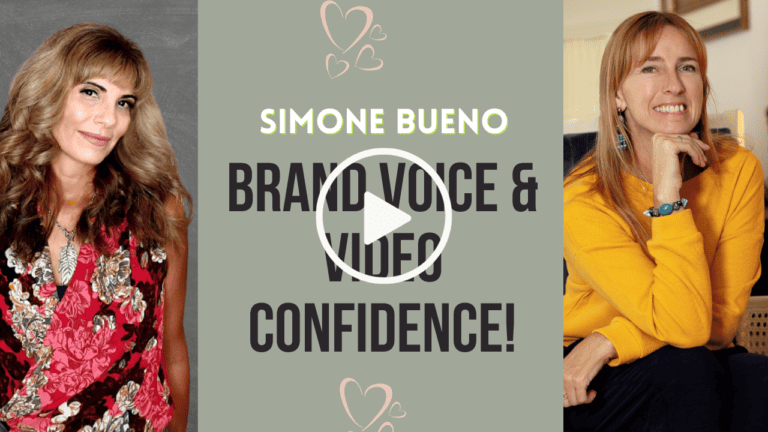 Resources Mentioned:
"On-Camera Mastery: Record, Edit, and Post With Confidence" Workshop October 25, 2023 at 1:00 PM EDT
Sign up for Simone's upcoming events
Subscribe to Apple Podcasts, and don't forget to Rate and Review
Like what you heard? If so, please rate and comment on Apple Podcasts. And while you are there, let me know what you want to hear next.
And while you are there, don't forget to hit Subscribe.
Want to know how you can enjoy this podcast more?